Can we eat our way to a healthy and ecologically sustainable food system?
Keywords:
sustainable diets, Canada's dietary guidelines, policy, Canada's Food Guide
Abstract
The food system is a major contributor to climate change, biodiversity loss, eutrophication and deforestation. This article examines national dietary guidelines as a way to shift dietary patterns in the population toward diets that continue to promote health while being more ecologically sustainable. While some sustainability principles may be inherent in the 2007 Canada's Food Guide (e.g., an emphasis on plant-based foods), these were not made explicit. As Health Canada undertakes a revision of its national dietary guidance, a unique opportunity exists to situate dietary guidelines within the broader context of Canada's first-ever national food policy. Coherence between these two policies has the potential to position the role of diets as a core link between food systems and both human and ecological health. This paper explores the possibilities of advancing sustainability principles within Canadian national dietary guidelines by drawing on evidence-based literature and key sustainability messages within dietary guidelines from four countries that have integrated many of these principles. Lessons and perspectives from international experiences on incorporating environmental sustainability into dietary guidelines are described including: influence of the food industry; cross-sector collaboration and alliances; civil society participation; and "win-win" messages. Application of these lessons to Canada, followed by opportunities to advance the incorporation of sustainability principles within the country's national dietary guidelines are then proposed.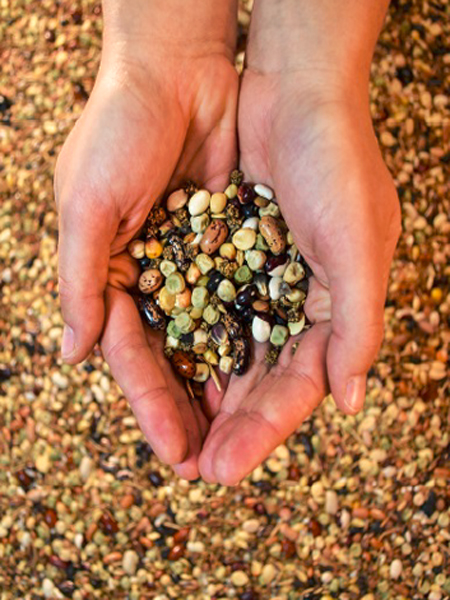 Downloads
How to Cite
Seed, B., & Rocha, C. (2018). Can we eat our way to a healthy and ecologically sustainable food system?. Canadian Food Studies / La Revue Canadienne Des études Sur l'alimentation, 5(3), 182–207. https://doi.org/10.15353/cfs-rcea.v5i3.258
License
Authors who publish with this journal agree to the following terms: Authors retain copyright and grant the journal right of first publication with the work simultaneously licensed under a Creative Commons Attribution (CC BY-SA 4.0) License that allows others to share the work with an acknowledgement of the work's authorship and initial publication in this journal. Authors are able to enter into separate, additional contractual arrangements for the non-exclusive distribution of the journal's published version of the work (e.g., post it to an institutional repository or publish it in a book), with an acknowledgement of its initial publication in this journal. Authors are permitted and encouraged to post their work online (e.g., in institutional repositories or on their website) prior to and during the submission process, as it can lead to productive exchanges, as well as earlier and greater citation of published work. (See more on Open Access.)