Publishing fees
To pay your CFS publishing fees, please click here. You will be redirected to a page on the CAFS website where you can select the appropriate amount from the fee schedule below.
Like many open-access journals, CFS charges its authors a publishing fee, the range of which is shown below. These fees are charged after a submission has been accepted for publication, following the review process. They allow us to keep the journal in operation, covering administrative costs, copyediting fees, and paid labour (editors work as volunteers), while resisting the need for other sources of revenue such as advertising and data analytics. As you may know, many for-profit academic publishers make a huge amount of income through the sales of user and usage data. This business practice has powerful and often problematic effects for learners, scholars, and academia more broadly.
CFS is committed to providing full, free, and open access to the content our contributors create. At the same time, we are working to make the journal accessible to the broadest possible spectrum of writers. For this reason, the fee schedule spans many contributor categories and fee types. If you can afford to pay more (because of salary, funding, or reimbursement), we ask that you do so. If you have less or no access to funding, the lower end of the range applies. We do not want money to be the reason that your knowledge goes unshared.
As in all parts of our food systems, sustainability is what drives our thinking about these fees. They need to be affordable, appropriate to the costs of publishing, and responsive to the needs of the journal and our community over the long term.
Please get in touch with us with any questions or comments, and remember that this conversation will continue for as long as CFS is produced.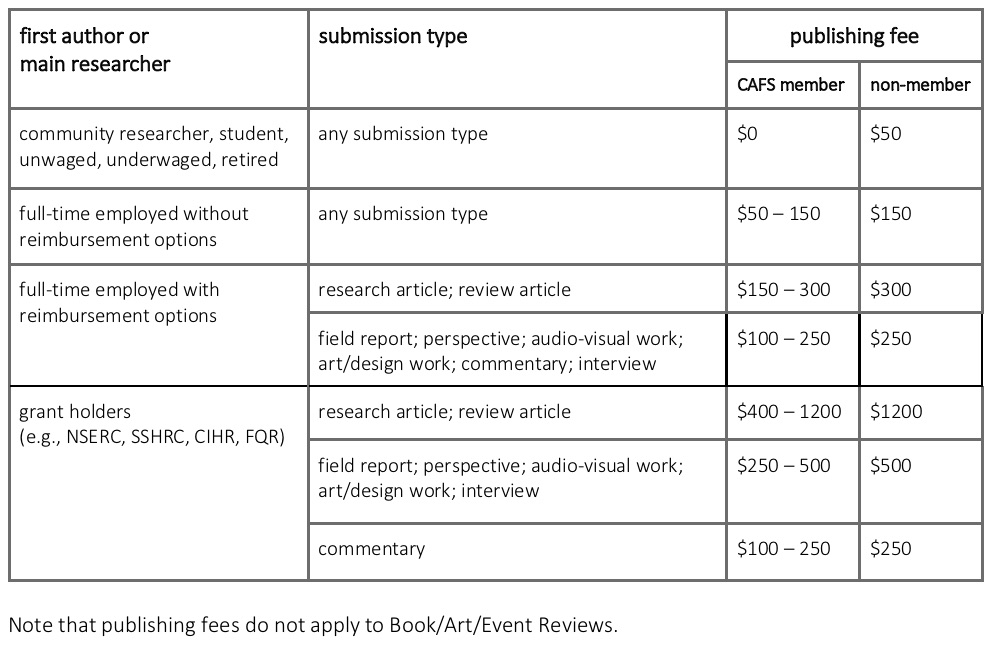 (In effect as of February 23, 2021.)